A big problem for user FRP bypass talkback not working, If you are trying to Bypass FRP lock of Samsung mobile, but the talkback option is not working on your mobile, then you need not panic because I will tell you how to solve this problem. I will try to tell you the method without computer because most of the users don't have computer and want to solve this problem sitting at home.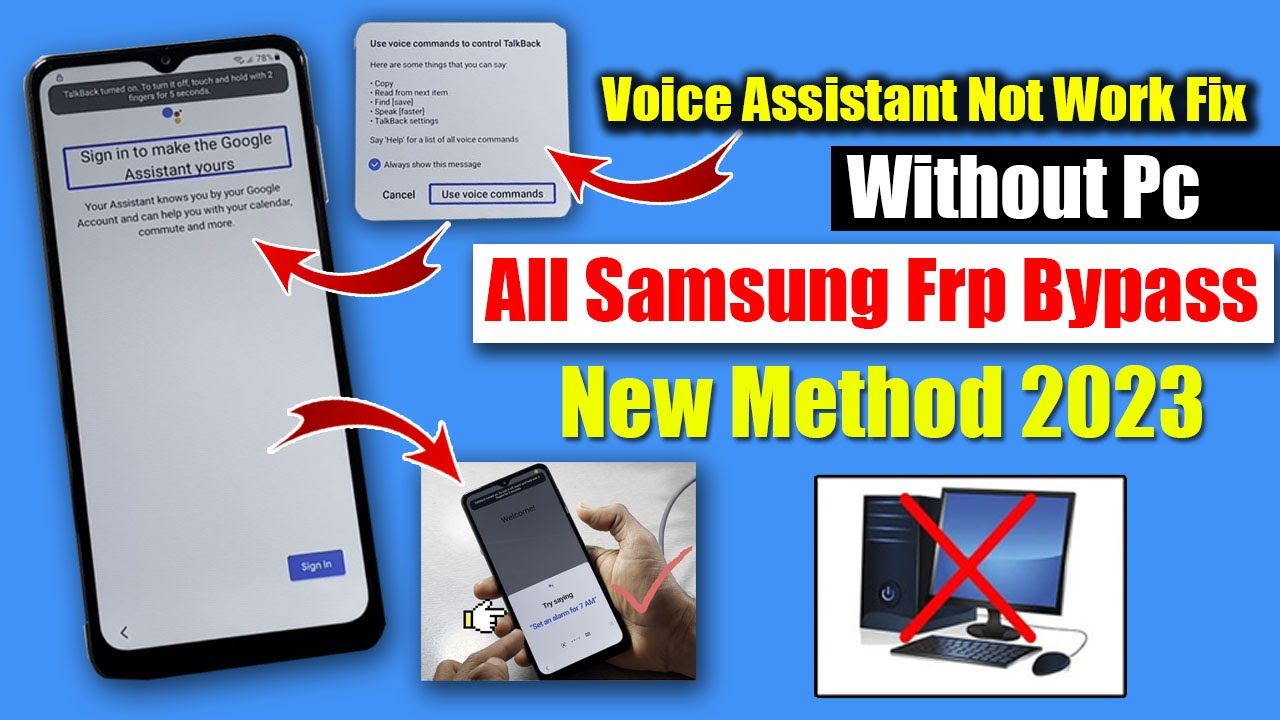 What is FRP?
If we are talking about mobile phones, then everyone knows what is the role of FRP in it? FRP is specially designed for the security of your mobile so that no one can access your data without your permission. There are some users who use mobile phones but don't know much about the software and don't know about its security.
Samsung Android 13 FRP Bypass Unlock Tool
When using a mobile, everyone needs an application that they want to use To download the application they have to go to the play store, without a Gmail account, you cannot download any application from the play store. Here some users create their new Gmail ID and don't remember its username and password, now the problem for these users is that they hard reset or factory reset their mobile.
The mobile gets stuck on the FRP lock and Gmail account that was already there in the mobile. Asks to log in. Talkback option is used to bypass google account so that we can access web browser, but talkback option doesn't work in some mobiles, so we are going to show you how to solve this problem.
FRP Bypass Talkback Not Working: What is it?
As I told you earlier that FRP lock is specially designed for mobile phone security so that no user's mobile data can be used by anyone. Talkback option is the only solution that allows FRP lock mobile to access the web browser and make the mobile usable. A problem for the user is when talkback does not work on his mobile. Due to which he cannot access the web browser of his device and cannot make his mobile usable.
Why is FRP Bypass Talkback Not Working?
Talkback not working when bypassing Google Account can be due to several reasons. Some of which I am going to tell you, the reason may be that the talkback option is not working on your mobile.
1: Outdated software
Maybe your mobile has old software and talkback doesn't work on it
2. Glitches and Bugs
You might have a software glitch after your hard reset that is And because of this error, your talkback option is not working.
3. Incorrect Talkback Settings
Maybe there is some application in your mobile which has a virus, and it doesn't allow the talkback option.
4. Hardware Issues
Sometimes there may be a problem with your mobile hardware like your mobile screen is not working due to which you have problem while using the talkback option.
5. Incorrect Talkback Settings
Sometimes it happens that most of the users don't know about its settings, and they go to its settings and make some changes due to which the talkback option loses its ability to work.
Troubleshooting FRP Bypass Talkback Not Working
As we have pointed out earlier what could be the reasons why talk back option not working so let us try to solve it.
1. Check for Software Updates
Every user should always check their mobile updates from time to time, If you don't then you can also enable your mobile to auto update which will update your mobile Software automatically. If your mobile doesn't have internet facility, then you can also update your mobile with the help of a flashing tool.
2. Restart Your Device
You may have hard reset your mobile and some software Error occurred during hard reset then try hard reset mobile again it also solves the problem.
Hope I have given you all the reasons why the talkback option is not working. If still the Talkback option is not working on your mobile, then you will find the video below which you can watch. You can easily fix this problem and ignore Google account.
Asked Questions (FAQs)
Answers to all frequently asked questions about FRP Bypass talkback option not working
Q: Can I bypass FRP without using Talkback?
A: There are many ways to bypass FRP Lock mobile without using a Talkback. There are many tools in the market which are capable of bypassing Google account of any mobile with just one click.
Q: Why does Talkback keep crashing during FRP bypass?
There can be many reasons for talkback not working during FRP, such as software error, outdated software, or file corruption. Follow the given steps to resolve the issue.
Q: Is FRP bypass legal?
If the user has the purchase receipts while FRP locking the mobile, then he is the owner of the device and bypassing FRP lock is not illegal. But neglecting a device whose owner is unknown or stolen is illegal, and you could be fined or jailed.
Q: Can I downgrade my Android version to bypass FRP?
Due to the new update, the security of your mobile also becomes stricter, which makes it very difficult to bypass the FRP lock, so in this case, you can easily bypass the FRP by downgrading the firmware of the device.
Q: Are there any risks in bypassing FRP?
There are many risks involved in passing the FRP. If you make a mistake while bypassing FRP, your mobile may be dead and its software may be corrupted, if you have never bypassed FRP before, then don't try to ignore FRP bypass.
Conclusion
Facing the FRP Bypass Talkback Not Working issue can be frustrating, But if you follow my advice and set it up correctly, I hope you will get rid of this problem. I have tried to explain you properly, but before trying any method make sure to back up Data in your mobile. Be careful when following any method, So I sincerely hope you can access your device.
All Samsung FRP Bypass Talkback Not Working Fix Video