Samsung Galaxy J7 Bypass Google Account 
Samsung Galaxy J7 How To Bypass Google Account? Along with the Android 7.0 update, Google has introduced a new security feature designed to make the phone unavailable for use in case of misfortune whether it is stolen or lost. This will protect all important data from it. However, this feature, while very useful, can cause some serious problems and put people in a situation where they have to ignore Google Account authentication in order to use the phone.
In this post, you will find a lot of technical instructions on how to Bypass an account from a Samsung J7. If you are not a tech lover, we suggest that you start talking to a smart assistant who can help FRP unlock your Mobile Samsung J7.
What Is Google Account And how to Work In Mobile?



Many people lose their mobile phone and it goes to another person, so you have put some screen lock on your mobile, because of which that person cannot use your mobile. He can't use this mobile right now because of your code so he wants me to use it, so he resets this mobile hard and after resetting hard, when Turns on the mobile and sees that the mobile gets stuck on Google account.
Now it is not necessary that every person's mobile phone falls somewhere or gets stolen, so they do it. Some people who have their own mobile phone also forget their lock, so they have to reset it hard Then they also come across this problem of Google account. Whatever mobile you are using or thinking of buying, first you have to sign in to your mobile with your Gmail ID then always remember the email address and password of the Gmail account you have used.
Keep it or write on a piece of paper so that you never forget the code of your mobile or hard reset it for the purpose of selling. If you ask for this Google account again, you have to add your account to it. Will never have this problem. If your mobile is also stuck on a Google account then surely your question is whether we can bypass its Google account?
Many people nowadays have this problem that when they hard reset Samsung J7 mobile, their mobile gets stuck in Google account, so today I will tell you how you can do it very easily. You can also bypass the FRP lock of your Samsung J7 mobile, Google Account is very easy to Bypass.
You don't have to worry because the method I will share with you will be able to bypass it very easily. There are many ways to bypass the Google account of this Samsung mobile but I will tell you which way today. It's very simple and you won't even need a computer or an OTG to Bypass the google account of this Samsung J7. The method I am telling you is for the Samsung Galaxy J7 Android Version 7.0 Device.

Samsung Galaxy J7 How To Bypass Google Account Without PC, OTG
Samsung phones are among the best-selling devices in the world, which is why their users often face this problem, especially those who use used phones. If you want to learn how to bypass Google Account in Samsung Galaxy, you can use the method given below.
FRP bypass instructions for Samsung J7
After performing a factory reset on the phone, wait until it reboots and asks you to select the language. After selecting it, continue with the following steps:
Connect the phone to Wi-Fi network (preferably your home network)

A Google Account will be requested in the next screen

You will see that it is stuck on Google account so you have to go back to the screen

You will press and hold your two fingers on the mobile screen for a while, it's talkback option will be turned on

On the screen, you have to draw an (L)e circle

Three times click on the Home button to turn off the mobile talkback option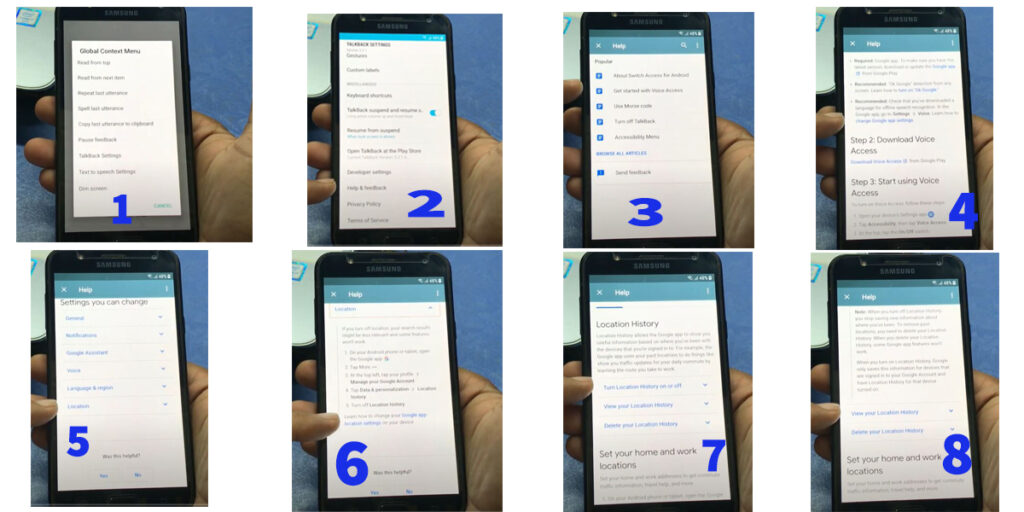 Click the Helpline Feedback option

Click the get started with voice access

You have to come down a bit here you will find the Change google app setting option you have to click on it

Scroll down again and click on Location

Click the google Location Setting

Click the turn location history

Click the view your location history

you see open the google map

click search bar to search in (best Computer Paroa)

Click the phone icon

You will see that your phone contacts will be shown in front of you. You have to send it to any friend by typing www.Google.com in the message.

Clicking on Google will open your browser

Open my (www,easyflashing.com)website in a web browser

Download This App & Instal It
Easy Flashing 7.0 FRP Patch APK Latest Version
Download & Install the Quick Shortcut Apk File

Open the Quick Shortcut Apk

In the Search, type Settings

You will see that the mobile settings will open in front of you

Check your mobile Android version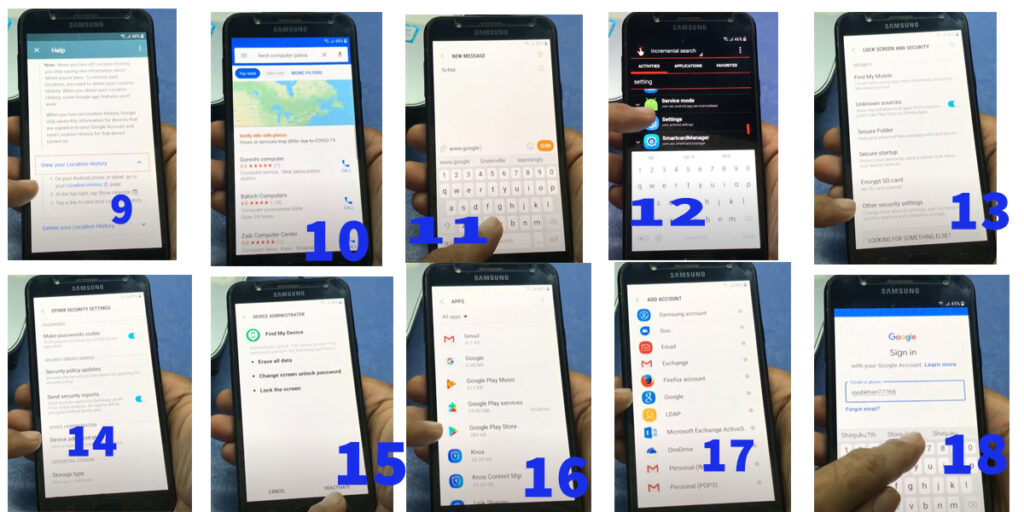 The way I'm telling you to bypass Google Account is for Android 7.0, If the Android version of your mobile is different then you will find the link below which will allow you to Bypass all mobiles.
Click the (lock Screen Setting)Again click another Security setting

Click the device administrator & Find my device Option Uncheck

Open Apps / Google play services disable

Click the add account

Enter any of your Gmail IDs here, You need to enable the Google Play service option when your Gmail ID is added to this mobile.
Now you have to restart your mobile and your mobile has been bypassed
If you still do not understand, I will give you a video below for your guidance. You can easily bypass your mobile by watching it.
I hope that with the help of this post you have solved your problem. If your problem still persists then you can go to Youtube Channel Easy Flashing and watch the video in which I am explaining the solution. Also if anyone wants to talk to me or tell me something you can tell me in the comments section I will try to answer you as soon as possible.
Important announcement:
Hello, if this application is not being downloaded from any brother or there is a problem in downloading, then you must let me know in the comments so that I can update it as soon as possible.




because many people Come to the website to download this application. You will tell me as soon as possible. I will try to solve it as soon as possible and remember it in your prayers.