Introduction:
Nowadays, everyone uses mobile because mobile has become a part of our life, well we see a lot of Android mobiles in the market, there Samsung mobile comes first which fulfils all the expectations of the user. If we enjoy life using mobile then the device also brings many problems to us in which IMEI number is one of them, and for a common man IMEI number problem is very annoying. In this article, we will learn about Samsung IMEI repair tools, understand how the tools work, why we need them.
Why is Samsung IMEI repair required?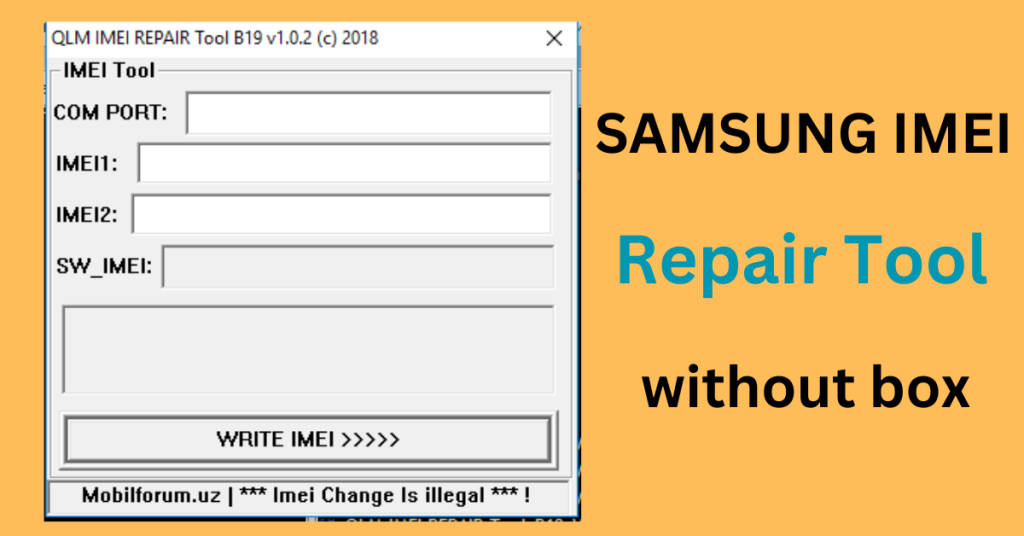 If IMEI of your mobile gets corrupted, then network problem appears and signal problem occurs on your mobile. You can neither make calls nor use the internet from this device. So to use your mobile you need to fix it with Samsung IMEI Repair Tool, if you don't then your mobile is nothing but a piece of junk.
How to Choose the Right IMEI Repair Tool
When Choose a Samsung IMEI repair tool, keep in mind that there are many tools in the market that can damage your mobile, so always choose a tool that is a popular and reliable software tool.
What is an IMEI?
Just like a person needs their country's CNIC card for identification, IMEI number plays a role as a unique identification number to identify international mobile devices. Every mobile has a unique (IMEI) number and this makes it easy for network providers to identify which mobile you are using, and IMEI also prevents your mobile from being used on unauthorized networks. Is. Sometimes it happens that your mobile is stolen, then you can trace your mobile very easily with the help of IMEI.
Common Reasons for IMEI Issues
There are many reasons for its deterioration. The most important reasons are the following…
Software update
Mobile software
Hard Reset and FRP Bypass
Mobile hardware
1: Software update
Mobile always needs to be updated because new features are coming sometimes it happens that you have internet problem while updating software or your mobile auto shuts down while updating. Your IMEI gets corrupted.
2: Mobile software
Apart from the original software of the mobile, if we install a software on it that has some changes, then it can also cause this problem.
3: Hard Reset and FRP Bypass
This problem can also occur if you make some mistakes while performing a hard reset that you didn't mean to, or you bypass the FRP lock.
4: Mobile hardware
Sometimes it also happens that your IMEI number gets corrupted due to hardware problem of your mobile.
Using Samsung IMEI Repair Tool
Samsung IMEI Repair Tool is a computer software tool specially designed to fix IMEI errors on Samsung smartphones.
While making this tool, its software has been programmed in such a way that you can rewrite or restore, the IME number of your mobile and make it workable again.
Benefits of Using a Samsung IMEI Repair Tool
Regain Network Access:
The biggest advantage is that it restores your mobile's network and enables you to call or use the internet again.
Device Unblocking:
After unblocking the phone, it also enables the use of mobiles which were unusable due to IMEI number.
Preserve Warranty:
Note that your mobile warranty is not affected after using Samsung IMEI Repair Tool
Enhanced Security:
The biggest benefit you get after using Samsung IMEI Repair Tool is that if ever your mobile is stolen, you can regain access to your mobile because of the IMEI number.
Features of the Samsung IMEI Repair Tool
Fix the Bluetooth problem.
Solve the DRK problem.
Reset the MSL.
Remove screen lock.
Read Pit Options.
MIPI Problem-Solving
Read and correct NV.
Clean and correct NV.
Write NV quickly.
EFS read/write speed.
Quickly read/write the certificate file.
Quickly remove RMM by root.
Fix to show IMEI not supported issue.
Restore original IMEI (exynos) quickly.
Quickly Restore Original IMEI (Qcom)
Add Smart S Health Fix.
Correct removal of security notes.
Fix Wi-Fi not working.
Add a fix for Wi-Fi, don't forget the problem.
Unlock, Remove FRP/Download Mode – ADB Mode.
Fast Read / Fast Write EFS
Add read/write data for nv_data.
Create read/write security.
Add IMEI number repair/repair network error.
Quickly clean/reset EFS.
Quickly Add SN Read/Write
Step-by-Step Guide: Repairing Samsung IMEI
Backup Data: Save your mobile data before repairing your Samsung Mobile's IMEI.
Download and Install: Download Samsung IMEI Repair Tool in your computer and install it when downloaded
Connect Your Device: First, choose a good USB cable. Connect it to mobile by applying it inside the USB port of your computer
Using the Tool: Open the Samsung Tool and check the mobile on your PC setting and check the mobile that your mobile is connected to the mobile computer, if you see contact with the computer then tell Samsung IMEI Repair tool to identify the device.
IMEI Repair: When the tool -up identifies the mobile then you just have to click on the IMEI repair button, either you can repair the IMEI or write the IMEI number
How to Download and Install Samsung IMEI Repair Tool?
Click the button below to download the tool.
This is a free tool that you can download very quickly.
Be sure to read the instructions on the download page while downloading so that you can use it properly.
Precautions and risks
Although IMEI repair tools solve your problem, they can also create problems for you. While repairing IMEI, you make a mistake or enter a different mobile number. In that case it can be a lot of trouble for you because entering someone else's IMEI number is illegal, which can even land you in jail, so read the given methods carefully and follow them carefully.
Frequently Asked Questions (FAQs)
Q: Can I repair the IMEI on my Samsung device without a computer?
A: If we talk about Android mobile phones then it is impossible to repair their IME without a computer, yes if we talk about small mobiles that do not support Android software then there are some mobiles that can be IMEI repaired without a computer.
Q: Will repairing my IMEI erase my data?
Before doing IMEI repair you should try to save your mobile data because sometimes it happens that your data gets deleted too.
How do I know if my mobile phone's IMEI is corrupted?
When you don't see any network signal on your mobile, dial *#06# once. If you don't see the IMEI number here, then you should understand that your IMEI number has been corrupted
Can I change my mobile IMEI number?
Changing the IMEI number of any mobile is a legal offence that can land you in jail
How To Use Samsung IMEI Repair tool without box, 2023
Download Samsung IMEI Repair Tool 2023
Download
TFT TOOL No need activation
Download
MTK IMEI Repair Tool
Download