Introduction
In the modern world of technology, owning an Apple device has become more than just a convenience – that's just my opinion. However, facing iCloud lock issues can be a big challenge, which restricts your access to the features and functions of your Apple device. Using Darkra1n iCloud Bypass tool – a method that can solve the problem of Apple enthusiasts. In this article, we will review the complete details of Darkra1n iCloud Bypass, explain how it works, its benefits, and address frequently asked questions that users often ask.
Darkra1n iCloud Bypass: A Revolutionary Breakthrough
Understanding iCloud Lock
Before we talk about Darkra1n iCloud bypass in detail, let's first understand iCloud lock. iCloud Lock is an important mobile security feature specially designed by Apple to prevent unauthorized access to a device without the mobile owner's permission if it is lost or stolen. Although this feature is essential to protect your personal data, it can be a challenge for users when you forget your iPhone ID password and get locked out of the device.
Samsung FRP Tool Android 13 Bypass Tool
The Power of Darkra1n iCloud Bypass
Darkra1n iCloud Bypass Tool is an only solution to the easily bypasses iCloud Activation Lock, enabling users to regain access to their devices without the original Apple ID and password. This powerful tool specially developed for iPhones and iPads uses advanced techniques to unlock the user's device, allowing users to enjoy the full capabilities of their mobile phone again.
What is DarkRa1n Tool?
DarkRa1n is the iOS 15 successor to BlackRa1n iCloud Activation Lock Bypass, and it now supports iOS 16. This is a free tethered iCloud Bypass for iOS 15 and iOS 16 for A9-A11 devices that do not support signal. Although the SIM card will not operate, you will have access to the system.
This is the first programme capable of removing iCloud Bypass on iPhones and iPads running iOS 16 – iOS 16.2. Use the DarkRa1n tool to disable Find My iPhone without entering a password or to unlock Apple ID. It is compatible with all checkm8 smartphones on iOS 15.0 – 15.7.2, as well as A11 on iOS 16.
For iOS 15 to iOS 16, DarkRa1n is a tethered iCloud bypass that needs the most recent Palera1n jailbreak to be installed on your iPhone or iPad. Therefore, you must utilise a computer to load the iOS system whenever you reboot the device. If not, the screen will stock to black.
Supported devices
for iPhone, iOS 15.0 – 15.7.2 Update
A9X – 6S, iPhone 6S Plus, iPad (2017) 5th Generation, iPhone SE,
A9 – iPad Pro 1st generation, iPad Pro
A10X – iPhone 7 and iPhone 7 Plus, iPad (2018, 6th Gen), iPad (7th gen, 2019).
A10 – iPad Pro Gen (2017), iPad Pro (2017)
iPhone A11 – iPhone 8,and iPhone X, iPhone 8 Plus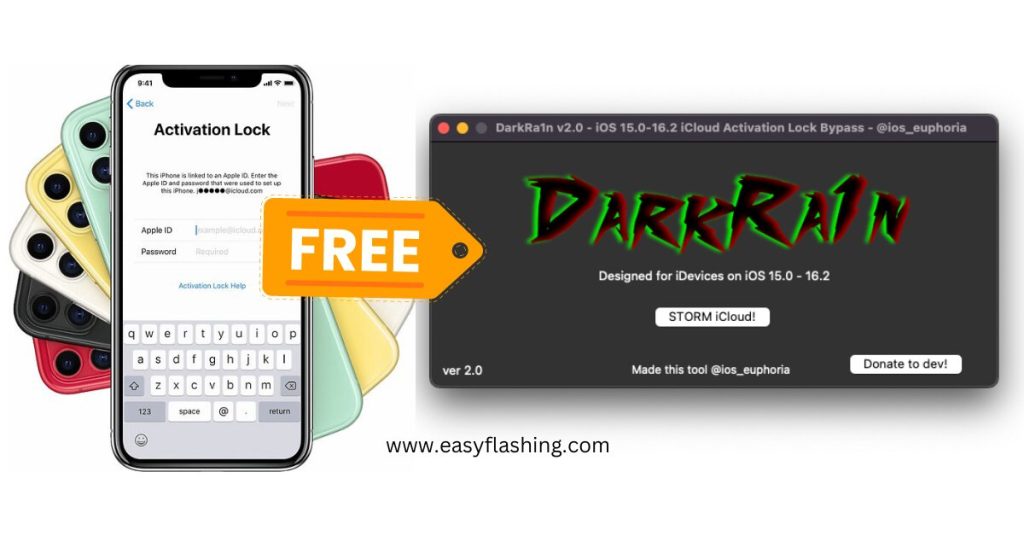 How Darkra1n iCloud Bypass Works
Step-by-step process
iPhone Device Verification: The Darkra1n tool starts by mobile owner verifying the status and Unlock ability of the mobile device.
Connecting to servers: The tool connects to remote servers, where the device's all information is displayed and working processed.
Bypass Activation: Darkra1n uses complex techniques to bypass iCloud activation lock. It requires fast internet and stable internet.
Device Unlock: After a successful bypass, your device is unlocked and ready to use.
How to remove iCloud on iOS 16 – iOS 15
iCloud may be removed from iPhones and iPads using the free tool DarkRa1n, allowing recycled devices to be used. It only takes a few easy steps to use our iCloud bypass removal tool, but before you do, make sure that Python and Homebrew are both installed on your macOS system.
Important! DarkRa1n is an iCloud Bypass tool that requires the device to be jailbroken with Palera1n Jailbreak first. The iCloud uninstaller is not included with this iOS 15 – iOS 16 jailbreak for A9-A11 smartphones. Continue once the device has been jailbroken and is still at the setup screen.
Connect a device that is compatible with macOS.
On Mac, open the DarkRa1n folder and terminal.
Cd DRAG AND DROP DarkRa1n folder here
To install the essential components, type the following command into the terminal.
bash ./install_deps.sh
Once completed, Navigate to System Security and Privacy. Allow Terminal and ssh-wrapper complete disc access.
To install the essential components, type the following command into the terminal.
python3 darkra1n.py
Connect your iPhone or iPad to your PC.
Click "STORM iCloud" and follow the on-screen instructions.
Without the iCloud Activation Lock, the device will reset!
Palera1n Jailbreak allows you to re-jailbreak your iPhone or iPad.
Note: If something is not working, try executing the following commands in the DarkRa1n folder: "sudo xattr -RD COM.apple.quarantine ./" and "chmod 755 ./"
Benefits of Darkra1n iCloud Bypass
Returning device function
When you use the Darkra1n iCloud bypass tool, you're not just unlocking your device. You are also accessing your device. Your apps, photos, contacts and other items are all easily accessible.
Cost saving approach
Darkra1n iCloud Bypass offers a less expensive alternative to regain access to your locked Apple device than hiring a professional or buying a new device.
Time efficiency
Bypassing the iCloud lock is relatively faster than the Android mobile process, meaning you can make your device usable again in a matter of hours.
User-friendly interface
Darkra1n features a user-friendly interface, ensuring that even people who have never used this tool can successfully unlock their iPhone devices with ease.
FAQs About Darkra1n iCloud Bypass
Is Darkra1n's iCloud Bypass Safe?
Darkra1n is concerned about user safety. During the unlocking process, this tool protects your mobile data using advanced encryption and security features.
Will bypassing the iCloud lock void the warranty?
The purpose of Darkra1n iCloud Bypass is only to bypass the iCloud account of the mobile, which does not affect the warranty on your device.
Can any Apple device be unlocked by Darkra1n?
Yes, Darkra1n is specially developed for iPhone mobiles and tablets
Is Darkra1n allowed?
Depending on the country, each country has its own legal implications regarding Darkra1n iCloud Bypass. It is important that you know and understand your local legal implications.
What if I lose my Apple ID again?
Device access is possible thanks to Darkra1n iCloud bypass in forgotten Apple IDs. But to avoid such problems, it is advised that you keep your credentials safe.
Conclusion
Everyone can get worried due to iCloud activation issue. Mobile phone is very important in our life and when users cannot access mobile, then they can solve their problem with the help of this tool. And for those who are suffering from this problem, Darkra1n iCloud Bypass is the only solution that can eliminate iCloud lock problems.
Download DarkRa1n iCloud Bypass Latest Version 2023 for macOS and Linux
Download DarkRa1n for Linux
Download DarkRa1n for macOS
iCloud Bypass iOS 16/15 iPhone/iPad Using PaleRa1n Video