FRP BYPASS APK FOR ANDROID 13
In the new Android 13 update, FRP security has been given a lot of importance to the user so that the user's data is safe. The user is no longer worried that if his device gets hacked or lost somewhere, no one can access his data. But the problem is more than ever for those users who don't know much about mobile software.
If we talk about older software version, it was not as difficult to bypass FRP as it is now. In this article, we will talk about Android 13 FRP Bypass APK Latest Version 2023, an app that can help you bypass the security and let the user regain access to the device.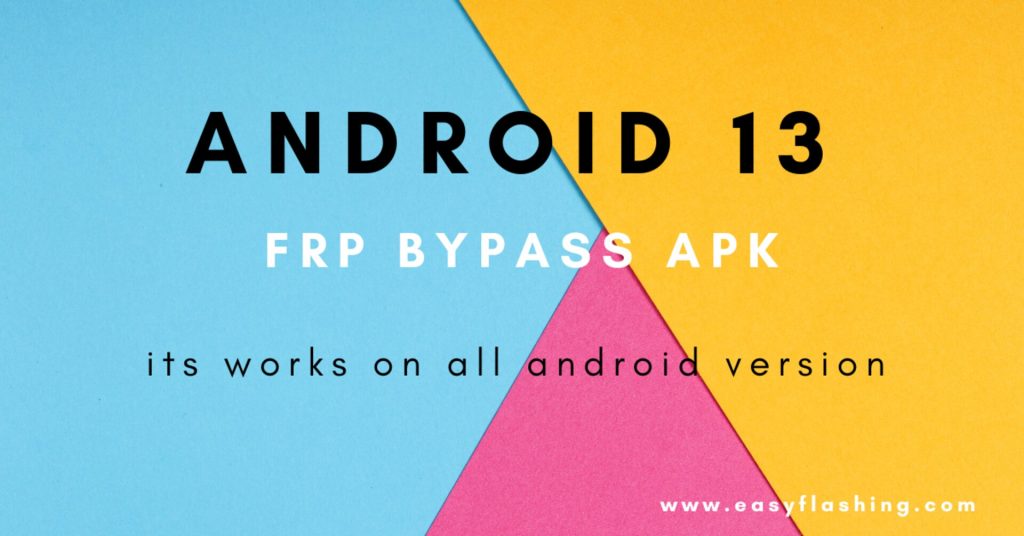 Introducing Android 13 FRP Bypass APK
What is an Android 13 FRP Bypass APK?
Android 13 FRP Bypass APK Latest Version 2023 is a third-party application that allows the device owner to bypass the factory reset protection lock on their Android mobile. This app is especially needed when the user hard resets his mobile and then the device asks him to verify the account, if the Google account was already in use in the device.
Benefits and Risks
It may be true that with the help of Android 13 FRP Bypass APP, you can regain access to the mobile, but you should also be aware that these third-party FRP Bypass APK file can weaken or damage the security of your mobile. Instead of these applications, you should choose a Mobile Tool that will eliminate your worries and not risk any kind of security leak.
Understanding Factory Reset Protection (FRP)
What is Factory Reset Protection?
Factory reset protection is a special mobile security feature implemented by software in Android device to prevent anyone from accessing the device, which can be enabled and disabled by the user himself in the factory reset of the mobile. . Whenever someone hard resets a mobile, they need to verify their Google account to use the device again, making it very difficult to misuse stolen devices.
The Need for Android 13 FRP Bypass APK Latest Version
In my opinion, although factory reset (FRP LOCK) protection is necessary for device security, there are some users who may forget their Google account credentials or buy a second-hand device and then have to hard reset the mobile. So in this case the FRP lock may need to be bypassed. Android 13 FRP Bypass APK is specially developed for such mobile phones.
How to Perform Android 13 FRP Bypass APK
Step 1: Preparation
Before starting, make sure you have a high-speed internet connection to download the necessary files.
Step 2: Download the Android 13 FRP Bypass APK
Below you will find the link to download Android 13 FRP Bypass APK 2023 file, it will be a free application that you can download very easily.
Conclusion
Android 13 FRP Bypass APK is the only solution for people who are worried about FRP lock, but should be careful while downloading or using such apps. And a solution should be found that will reduce your anxiety and stress instead of increasing it. Never compromise mobile security to regain access to your FRP LOCK device. If you follow all these mentioned steps of mine, you can keep your data safe and also make your device free from FRP Lock.
All Samsung Android 13 FRP Bypass Method 2023
Android 13 FRP Bypass APK Latest Version