SamFw FRP Tool 3.0 is a PC Windows software program. Can be used to unlock FRP lock of Samsung mobile with just one click. This tool can bypass google account without pc, remove FRP lock, and factory reset Android phones with test mode and ADB mode. If your mobile is also stuck on Google account, or you want to flash it or hard reset it, then you can fix your mobile very easily by following our given method. And below you will find the latest version 2023 of SamFw FRP tool to fix your phone, and you can easily download it from there.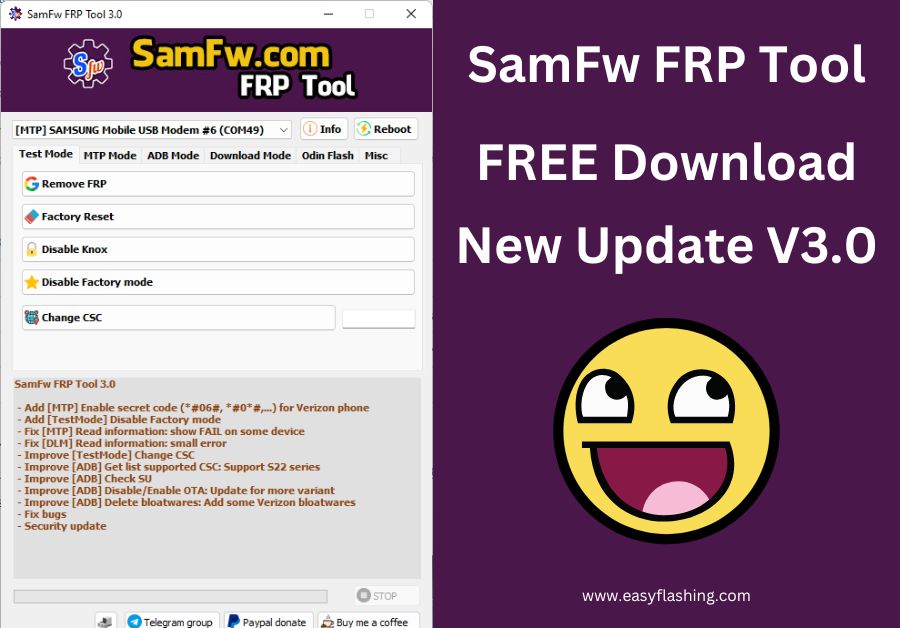 Samfw FRP Tool 3.0 Free Download
What is Samfw FRP Tool 3.0 ?
This tool is especially popular because you can unlock FRP lock, Google account, pattern unlock, screen lock or flash any Samsung mobile or any other device with just one click. If talk about other unlock tools, you will find many in the market, but you have to buy them, this is the only tool that you get for free, and you can use it for free.
Why is Samfw tool needed ?
If you are using mobile then you definitely need this tool because sometimes it happens that you forget your mobile Gmail ID password, and you have to hard reset your mobile. . Yes, if you do this your mobile gets stuck on FRP lock now you can't access your mobile again without logging in this old ID on mobile this is the only tool you can use to unlock your mobile. You can access your mobile by Without logging in with your old Gmail ID.
It is not necessarily the same FRP problem for everyone. Sometimes it happens that your Android device has a software bug that requires you to flash it. This tool can help you. You can also flash your mobile with it.
Benefits of using Samfw FRP Tool
Well, there are many benefits of using Samfw FRP 3.0 tool, but I want to share with you a few things that are very important for you to know.
FRP Bypass Single Click
Flashing
Free
Without Internet
Hard Reset
Pattern Unlock
FRP Bypass Single Click:
This is such a powerful tool that you can delete FRP lock or Google account of any mobile with just one click within few minutes.
Flashing:
If your mobile is slow, and you want to flash it, you can flash any android device using this tool.
Free:
Using this tool you don't have to pay any monthly or annual fee, you can download and use it for free.
Without Internet:
You need internet only while downloading this tool, once this tool is downloaded in your PC then you don't need any kind of internet while using it.
Hard Reset:
You can also hard reset all Android phones with the help of this tool
Pattern Unlock:
Many people forget their mobile pin code or password so the big problem for them is how to get rid of this problem, so this is the only tool that also allows you to remove Pin Code, Password in any android mobile.
Which Android version does it work on?
Samfw FRP tool works successfully on all these Android versions, and you can remove FRP lock of any mobile.
Android 6.0
Android 7.0
Android 8.0
Android 9.0
Android 10
Android 11
Android 12
How To Use SamFw FRP Tool V3.0
First download this tool download link will be found below
You will see that this file will be a WinRAR file, extract it.
Click on setup and install
To use it you will also need the USB driver, the link for that is also given below, download it as well.
Connect your mobile with the computer with the help of USB cable
Go to mobile Emergency Call Dial #0#
Open the back cover of the mobile and click on the test point
Click on FRP Remove option
So you will see that the FRP lock of your mobile will be removed in few seconds
After the FRP Unlock, you will reach the home screen of your mobile, go to your mobile settings and hard reset your mobile once.
I hope by following all the methods that I mentioned you will successfully bypass your mobile sometimes it happens that some mobiles don't work in this way, then you will find below video which You can easily bypass FRP Lock by looking at.
How To Remove FRP Samsung With one click
Install all USB drivers in your mobile before adopting this method
Connect your mobile to your computer using the original USB cable
Go to Mobile emergency call, then type #0#.
Above the tool you will see FRP Remove option, click on it
After a few seconds, Click Accept USB debugging on the phone if it appears
After the process is completed on the Samfw FRP tool, your mobile will restart and as soon as it turns on again, you will know that the FRP lock has been removed.
List of functions Work on SamFW FRP Tool
*#0*# Method
MTP Method
ADB Method
Download Mode Method
*#0*# FRP Bypass Method:
By this method you can remove FRP lock, Factory reset of any Samsung mobile in few minutes and with the help of just one click.
MTP Method:
Through MTP mode you can access any mobile browser, hard reset any Android device and remove FRP lock or pattern lock of any device.
ADB Method:
You can get all the information of any mobile through ADB mode, And you can remove FRP lock from all Android devices in few minutes. If your mobile is stuck on pin lock or FRP lock then you can also enable its ADB mode with just one click without opening mobile settings, then remove FRP lock and pin code.
Download Mode Method:
With this mode, you can flash any Samsung device or exit this mode.
SamFw FRP Tool V3.0 Free Download Latest Version
If you want to download this powerful tool then you will find its link below which you just need to click then it will start downloading on your computer. You can run this software on any windows whether your computer is Windows 7/8/9/10 it works on all.
| | |
| --- | --- |
| Name Tool | SamFw |
| File Size | 12.9 MB |
| File Tape | EXE |
| Windows | 7/8/9/10 |
| Credit | SamFW team |
| File Password | Without Password |
| Downloading Speed | Very Fast |
| Version | 3.0 |
SamFw FRP Tool V3.0 is free to download
Download